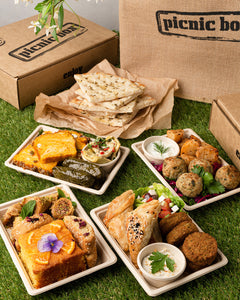 The ultimate Greek grazing picnic - Chicken Keftedakia (Meatballs), tzatzki, red slaw & lemon potatoes, dolmades, artichokes, pumpkin & feta bread, Greek pita bread, Spanakopita, falafel, tahini dipping sauce, Greek salad and treats of baklava, Ravani (semolina cake), Paksimadia (biscotti)
Your Prahran Market picnic has been handpicked by Sweet Greek to showcase their very best.
We've packed it in a hamper for you to keep and all other packaging is compostable, please dispose of thoughtfully.  Please consume within 4 hours. 
Depending on appetites the hampers will serve 2 - 4 people.