CORPORATE & GROUP PICNIC BOXES
They're a bit posh with a local cheese platter of Maffra cheddar and Gippsland brie, grapes, chutney, dried fruit & nuts, lavosh & sweet treat.
Choose from free range roast chicken, ham, smoked salmon vegetarian or vegan & gluten free.
Email hello@picnicbox.co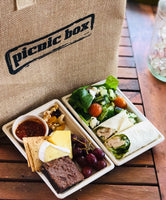 happy customers mean everything to us
Hi Diane

Thanks so much for the yummy picnic boxes!!
 They were all awesome. Tasted amazing and the portion sizes were spot on. We use picnic boxes quite regularly and yours are of a very high standard. Food was amazing and event the packaging is much studier and well-done compared to others we have used. 

Jess, MYOB Melbourne
Must say, they were truly amazing. The lunch boxes arrived in dedicated chill boxes, they looked great, and most of all, the food was sensational. The items being individually wrapped kept everything really fresh too.

Jon Simiele - UOM - Melbourne School of Law
Can I just say congratulations on being the only Australian sourced, sustainable package lunchbox provider in Melbourne (at least that I could find after a lot of searching) and for being so easy to work with!

Amanda
I want to thank you and your team for the splendid meal we had at our picnic; it was delicious!   Also a slick and professional service.


Yvette Loggenberg
Our journey to Australia
After a life changing experience being selected for the Slingshot Caltex Spark accelerator program we are putting down the picnic blanket and packing fresh picnics, first stop Melbourne.
find out more